Filter Services' Range of Filter Bags includes:
Envelope Filter Bags
Multipocket Filter Bags

Overview of Our Filter Bags
Filter Bags in a dust collector unit are used to separate powder, dust, fume or smoke from a gas stream, normally air. This can be for the collection of the solid particulate as a useful product, or for its removal as a contaminant from the air stream. Dust Filtration Systems are required in many process industries.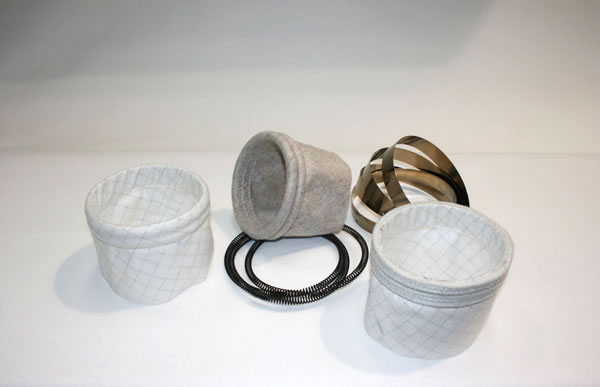 • Filter Services has experience supplying filter bags into food, pharmaceutical, metal refining, electro-plating, minerals, cement, asphalt, aggregate, chemicals, plastic, pulp and paper industries.
• Dust Filter bags are commonly made from needle felt materials. Filter Services carries a wide range of these non-woven materials in stock including but not limited to Polyester, Polyproplyene, PPS, Homopolymeracrylic and P84. See our list of special finishes for more details on available finishes.
• We also have various woven and other non-woven materials that are particularly useful when making bags suitable for use in a dust collector with a shaker cleaning system.
• Filter Services carries filter media with singed and glazed surface finishes for common applications. We also stock microporous membranes, both the expanded PTFE and the foamed varieties. Most variations are available in an antistatic version and with a liquid repellent treatment that can also be compliant with current FDA and EU food contact legislation.
Particles of a great variety of sizes can be collected using filter bags. Generally smaller particles need to have slower air flows through the filter media. Filter Services Limited carries a wide range of filter media for the collection of a great variety of particle sizes. We have several engineers within the business with a combined total of over 100 years of experience in selecting the best filter media for the dust and the filter unit.
When the product collected is a food or pharmaceutical material, food grade materials and packaging can be used. Certification for the materials is available quoting either US FDA or EU standards. Food Grade products can be antistatic, liquid repellent and have special surface finishes.
Filter Services has a large set of Cell Plate samples that are used to check the open end effective size of filter bags. Sample bags that are sent to Filter Services are test fitted to find the likely size of the cell plate hole in the filter unit. Filter Bags that are then made as a copy of the sample can be checked that they fit the sample cell plate hole. As bags have to fit a cell plate hole very accurately. A filter bag must be made to plus 0.0mm and minus 1.0 mm tolerance. This process dramatically reduces the chances of an error being made.
Why are some filter bags made from antistatic material?
To control the risk of explosion from electrostatic discharge, anti-static bags that are effective conductors of electricity are available. These bags are very effective at dissipating electrical charges from the powder and dramatically reducing the risk of explosion. Very small amounts of dust in large volumes of air have a high risk of explosion. Ignition sources need to be carefully controlled. A charge of static electricity can build up as particles move in the airflow, producing a potential ignition source. DSEAR (The Dangerous Substances and Explosive Atmospheres Regulations 2002) requires all workplaces where substances that could give rise to fire or explosion are handled or stored must be fully assessed and protected. ATEX directives concern the supply of equipment and components where they are for use in potentially explosive atmospheres.
What is the benefit of filter bags made from liquid repellent filter media?
Liquid Repellent finishes are recommended for the filter media when the filter bags need to be either hydrophobic or oleophobic. There are several reasons for using a liquid repellent finish. As air cools in the filter unit, the gas can pass through the dew point and water or other vapours can condense on to the filter media. This will help the dust particles cling to the filter media and make the cleaning mechanism less effective. If the dust is hydroscopic or the particles react chemically with water, then the dust particles that collect on the damp surface of the filter bags can form an impermeable layer that is firmly attached to the filter media. Filter Services has also dealt with dusts where the particles carry oil. This has led to untreated bags becoming saturated with oil with much reduced effectiveness and a significant fire hazard.