Loading Chutes and Flexible Connectors
Overview of Loading Chutes and Flexible Connectors
Filter Services supplies Loading Chutes and Flexible Connectors in a range of hard wearing materials and colours with or without steel support rings – any size or shape.
Loading Chutes and Flexible Connectors are manufactured to prevent loss on the transfer of powders from one vessel to another. Loading Chutes and Flexible Connectors will also prevent contamination from external sources to the powder in transit. The materials used can be selected from a large range of polymer materials with varying degrees of flexibility, toughness, abrasion resistance and permeability. If required, the Loading Chutes and Flexible Connectors are made from Food and Pharmaceutical contact approved materials. Filter Services works with US FDA and EU certificated materials.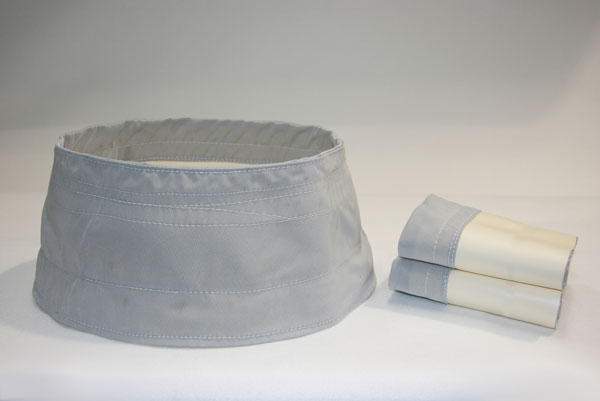 Filter Services can provide materials that conform to:
Declaration of Conformity according to Regulation (EU) No.10/2011 Annex IV and Article
15 with FDA 21 CFR §176 resp. §177 manufacture acc. GMP EU 2023/2006
Constituent components contain no substances of animal origin.
These products are tailored to the requirements of the customer's equipment. Filter Services can either make to customer drawing or we will visit the customer's premises to measure the equipment, make drawings and discuss requirements.
We recommend electrically conductive fabrics that eliminate the risk of electrostatic discharge igniting the powder. Filter Services has a large range of electrically conductive fabrics of varying air permeability, flexibility and solids retention.
The Loading Chutes and Flexible Connectors are commonly attached to the pipework, mixer, mill or sieve with elastic of varying strengths, buckles, press studs, over centre clamps or jubilee clips. Chutes and connectors can be reinforced to minimise damage caused by these fastening methods.
Support rings are often used in the Loading Chutes and Flexible Connectors to help the items keep their shape. Rings can stop the products collapsing from differential pressures. They can also be used to aid fitting. Rings can be supplied from various polymers, elastomers, stainless steel and other metals,