Mulitpocket Filter Bags for OEM (Original Equipment Manufacturer) machines
Filter Services supplies multipocket filter bags to a range of industries including pharmaceutical, food, minerals, chemicals and plastics. Our multipocket filter bags are designed to increase surface area and maximise production capacity. We have very experienced engineers on hand to advise on the best design and materials to suit your unit and process.
We stock a wide variety of felts with different weights, air permeability and finishes. Our range includes polyester, polypropylene, PPS, P84 and homopolymeracrylic with other specialist materials available on request. Different finishes including glazes, antistatic and liquid repellent can be selected to suit your application. Please visit the 'Technical Data' section for more details on polymer suitability for your process and information on our range of finishes.
Filter Services manufacture multipocket filter bags to fit the whole range of DCE machines. Different finishes are available depending on your process needs. Our bags are available in the following sizes:
• UMA 40 with 9 pockets
• UMA 70 with 12 pockets
• UMA 100 with 18 pockets
• UMA 150 with 18 pockets
• UMA 250 with 29 pockets
• UMA 350 with 28 pockets (comprising of 2 x 14 pocket bags)
• UMA 450 with 36 pockets (comprising of 2 x 18 pocket bags)
• UMA 750 with 48 pockets (comprising of 2 x 24 pocket bags)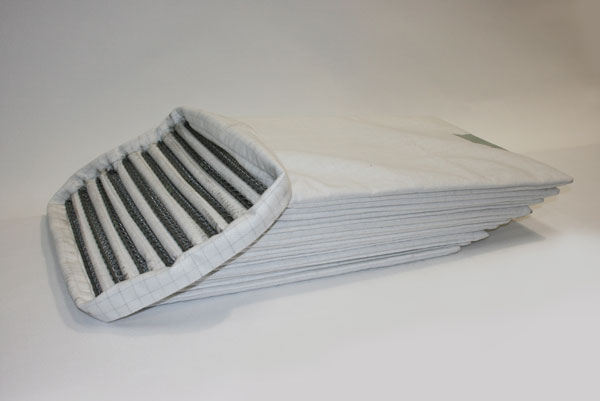 We have templates and patterns to make multipocket filter bags suitable for the following filter units including wire inserts:
• Airmaster Autos
• Airmaster E series
• Airmaster Dustolex
• APL
• DCE Auto Drytex
• DEI Dust X
• Environmental Dust Control
• Filtex
• Heaton Green Unijet
• Hivent
• JB Thorner
• McLuckie
• Spencer & Halstead Streamline
All of our multipocket filter bags are manufactured to ISO 9001: 2008 quality standards. All of our felts used for pharmaceutical and food applications meet with US FDA and EU standard requirements.